What

Our Customers Say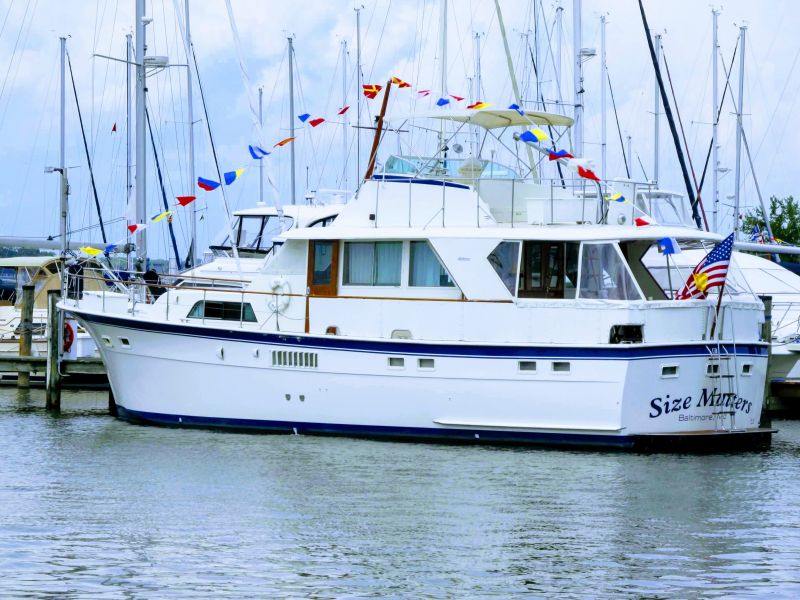 Hatteras 1973 53' Motoryacht. Thanks to Eric Horst for doing a spectacular job of representing our boat. If anyone is searching for a vessel or has a vessel to sell, please don't hesitate to contact Eric at Bayport Yachts. He is a credit to his profession! Today is a bitter sweet day that brings close to 20 years of stewardship to a close. The memories, experience and knowledge gained are priceless. We will indeed miss "Size Matters".
I don't even know where to begin! Best experience bar none I've had with any business anywhere for anything. Eric sold my boat and was the epitome of a Yacht Broker. I tend to be obsessive and typically give the impression of a micromanager. Eric never gave me a chance to micromanage. He was one step ahead of me all the way. Each time he told me what I needed next, I approached each step at the next possible chance and Eric had already taken care of it. The buyer decided on a Saturday mid winter that he wanted to buy the boat ASAP, So at 8:59 am Monday I was on the phone to have the boat commissioned and ready for sea trial. To my surprise Eric had already scheduled all of this. No details missed. Perfect experience. I was even out of the country for settlement and it went flawlessly. Put your faith in Eric and sit back and watch it happen.
Eric Horst is the world's greatest yacht broker. When the surveyor came up with a very long list of needed repairs, we thought the deal was lost. Eric negotiated a survey allowance and the boat was sold as is. It was a win-win for us as sellers and also for the buyers - all in under 5 weeks from listing to closing. If you ever want to buy or sell a boat on the Chesapeake Bay or in South Florida, call Eric first!
, 40' Egg Harbor Sellers
A huge thank you to Eric Horst for going above and beyond in helping me close out one chapter of my life and moving on to the next after the death of my husband. The Loop just wasn't in the cards for us and our dream Loop boat had to find someone to love her as much as we did. Little did we know when we bought this boat from Eric two years-ago he would be selling it for me two years later. I would highly recommend Eric and Bayport Yachts to anyone buying or selling a boat - a class act with both transactions.
, 37' President 1989 Sale
We greatly appreciate all you have done for us over the past year+. Should we hear of anyone looking to buy or sell a boat in the future we certainly will recommend you. It's been a pleasure working with you. We still owe you a lunch or dinner and hope we have the opportunity to make good on that one of these days. Enjoy the wonderful days of Maryland boating season! Take care.
, 42' Cruisers Express (Purchased) and 32' Cruisers Express (Sold)
Eric, We looked at a lot of boats and met a lot of brokers before we found you and the 89 President you had listed. We knew as soon as we looked at the boat, it was the right boat and you were the right broker for us. It has been a refreshing experience with you making it a simple and easy transaction. We also appreciated how helpful you were with local knowledge on facilities and services beyond the purchase. We would highly recommend you to anyone buying or selling a boat. Thank you!
, 1989 President purchase
Ted and I want to thank you for your professionalism and efficiency during our recent boat buying adventure. When we started out, we really (really) didn't know what we wanted. Being experienced sailors, when it came to evaluating a big motor yacht, well, we were just lost. Scott, you said right away after our first viewing, that we needed to see a lot of boats. How right you were. It really helped to see a variety of boats in a variety of conditions, which helped us realize when we saw Brigadoon, she was THE ONE.
Eric, you showed us the boat before it was ready for viewing and that made a big difference. Your understanding of our needs (and my "attention to detail") took us to just the right boat at the right time. We were ready to take a break on looking when, BAM, it all happened. Our lovely boat is now getting a nice coat of paint on her bottom and we cant wait to move in.
Thanks again to you both and to Bayport Yachts for a seamless efficient experience. You guys rock!!!!!
, Hatteras 53′ Brigadoon
Scott and Eric were tremendously swift and professional with the sale of our boat! Both are straight shooters and were very proactive in communicating any status changes and advice. My boat sold within a few months, and outside the boating season! Incredible! I also believe that they found the right buyer for our 52' Jefferson. There are truly talented in matching the right boat to the buyer. If we were in the market to buy again we would certainly seek out Scott and Eric again. Bravo!
, Washington, DC
We recently took delivery a very clean, well maintained DeFever 41 in Baltimore MD that Scott Schramm of Bayport Yachts brokered. The vessel was exactly as Scott had described when we made the trip from Wilmington NC to view, much appreciated!! For our first trawler purchase we could not have been happier with the entire process from first viewing, to survey and finally closing. Scott navigated a couple of newbies through uncharted waters and we want to thank him for being patient and professional. Thanks again Scott!
, DeFever 41 "Avalon"
We wanted to thank you for your superb services selling our boat. You exceeded our expectations by 364 days. We planned a year to sell the boat and you got it done in a day! Unbelievable! There were a few nervous moments through the process but you saw us through them with your experience and professionalism. Thanks so much and we highly recommend you to anyone looking to sell (or buy) a boat!
, 48′ Hi-Star Sale